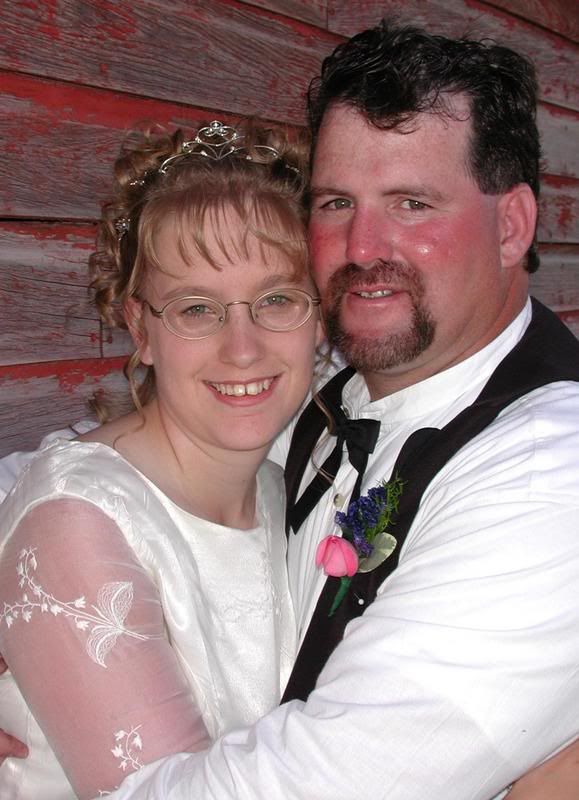 I saw this on
April's blog
and thought it would be fun to share with my new crafting friends as well as others who might be interested...lol...(And wow...this picture got humongo!!)
1.
Where did you meet your husband?
I will tell you the first time I saw Greg was him crossing the street when I was still in high school..then later at a wedding reception and a friend told me he was too old.
2.
What was the first thing you said to your husband?
I seriously do not know the first thing, b/c we were friends before and he was always picking on me..poking holes in my pop can before I would drink them, so I am sure I was chewing him out.

3.
Where was your first date & kiss?
Our first date was to the movies...don't know what it was either. And I think that was our first kiss too.
4.
Did you have a long or short engagement?
Not too long...we were engaged from October of 1999 to July of 2000.
5.
Where did you get engaged?
At the house we were living in at the time, it was my birthday, Greg had invited everyone we knew and they all came b.c they all knew ahead of time. So as I opened presents he proposed. So I got roses and a ring and the new hand mixer I had asked for! LOL!!! October 25th, 1999

6.
Where did you get married?
We got married out at my parents farm. We knew that that is where we wanted to be the night he proposed. Our lil boy David was one of the best men. They made a platform and we stood on it in front of my dad's wagon and the guests sat on hay bales. I came in a buggy that was driven by my dad's two best friends and we left on a golf cart....they way things have been in our life. LOL... Then we drove to town in my dad's '48 Dodge car. July 8th, 2000

7.
How did the reception go?
It was awesome. The original bar where were held the reception burned down a couple years before we got married. They rebuilt and opened up the day before our wedding...we literally broke in the new bar....and it was the best time ever. We had a DJ and we all danced until after 2 am. There was a storm...it started to rain when we go to the reception and about 2:30 the power went out in town. It was an awesome time for everyone. My mom arm wrestled another gal (for fun) - Greg will never forget that.

8.
How was the honeymoon?
It's still going on baby!! LOL.... we never really went anywhere. We talked about it many times and never did. Maybe in three years on our tenth anniversary...we can only dream huh?